What ERP Solution Delivers the Most Value In Usability & Functionality
Acumatica continues to be a leading ERP solution for usability in the 2023 ERP Technology Value Matrix, as it continues to expand its rapidly growing presence in the midmarket ERP space. The vendor is cloud-native and delivers its solutions, both general and industry-specific, via a SaaS business model. Acumatica's portfolio of supported industries includes commerce, construction, distribution, field service, and manufacturing.
Acumatica Cloud ERP has been ranked the leader in usability for 8 years and counting!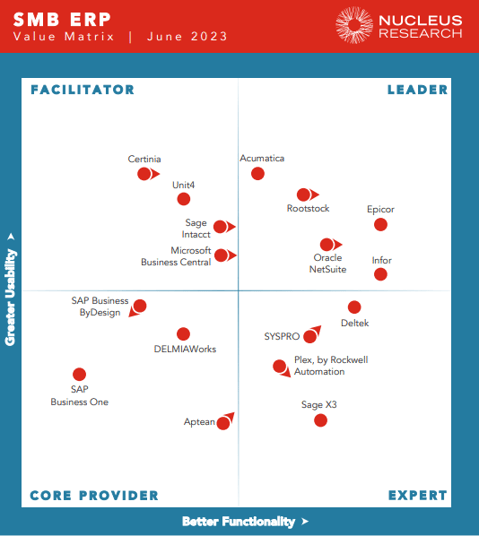 Who is Nucleus Research?
Nucleus Research is an information technology research firm specializing in investigative research and the return on investment analysis of technology deployments. The firm uses ROI case studies as its research approach and has published more than 400 case studies in various market segments. Per Wikipedia
---
Discover more about ACUMATICA and Clients First
Our Twitter feeds, Linkedin pages and Facebook profiles are full of additional offers and insights into our company culture.
Blog: https://blog.cfbs-us.com/acumatica-cloud-erp
Twitter: www.twitter.com/ClientsFirstTX
LinkedIn: www.linkedin.com/company/clients-first
Facebook: www.facebook.com/ClientsFirstBusinessSolutions
You may also contact us via email or phone at: